The program takes the design span as the distance between points will null deformation.
This implies that, depending on the deformed shape of the bar, the deformed shape can intersect at a point with the original straight line joining the end nodes.
This intersection point establishes the design spans: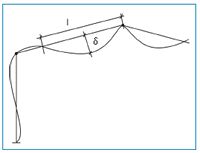 If what is intended is to limit the deflection with respect to the total span of the bar, limit the absolute deflection.