A roof made up of flat ceramic panels and lightweight brick partitions introduced on a concrete floor slab is defined using two floors; Roof, and Partitions or Slopes floor groups: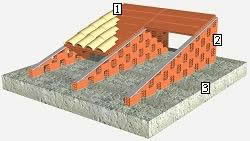 Roof
Partitions or Slopes
Floor slab
Once all the floors of the building have been created and all the façades, internal partitions, openings and floor slabs (except the roof) have been introduced, an extra floor is introduced (Partitions or Slopes) whose height equals the difference between the last horizontal floor slab that has been defined (ceiling of the floor below and floor for the lightweight partitions) and the height of the ridge. To do so, click on Job > Floors/Groups and introduce the Partitions floor.
Now go to the Partitions floor and introduce the façade and floor by pressing the External wall

and Internal floor slab

buttons located in the Construction elements > Walls and partitions menu and the Construction elements > Floor slabs menu. When defining the floor slab, bear in mind that the internal floor slab defines the boundary between a residential and non-residential zone, which is also in contact with the outside and, therefore, is part of the thermal envelope of the building.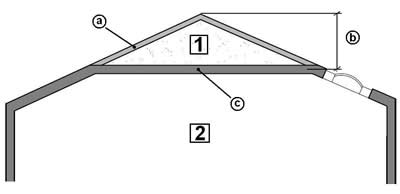 Zones
Non-residential zone
Residential zone
Elements
Roof
Partition height
Floor slab
Assign a space to the internal volume (Spaces > New) and define it as follows:

Description: Zone with no air conditioning and excluded from the acoustic analysis. To do so select Remaining spaces > Others and select Predefined values as the internal conditions.
Floor: Without cladding and with or without thermal insulation.
Ceiling: Without cladding
Finally, introduce the roof of the building To do so, go to the Roof floor level, select Construction elements > Floor slabs and press the Flat roof button

or the Sloped roof button

.